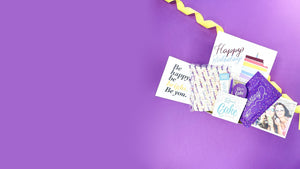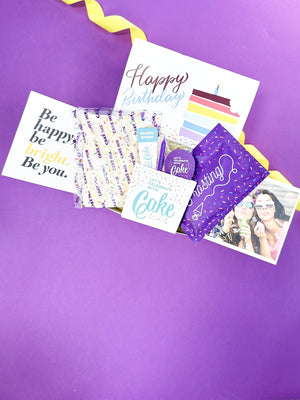 Thoughtful greetings and gifts to help you stay connected!
Staying connected with your favourite people is fun with greeting boxes. Surprise and delight by personalizing it with your own photos and message, or choose from our ready-to-go options that are already done for you. Whether it's to celebrate an occasion when you can't be there, rekindle a relationship, or just to brighten someone's day, 5am Lemon makes it easy to spread joy.
Create Your Own
Personalize your box by uploading photos and adding your message.
Get Started
Ready To Go
Quick and easy to order greeting boxes with curated, locally-sourced gifts.
Get Started
Corporate Gifts
Custom greeting boxes and gift curation for building work relationships.
Get Started
Big Impact with a Little Box
Customize Your Own Greeting Box!
Send a Ready-to-Go Box in 3 Easy Steps
It's As Fun To Gift As It Is To Receive
Surprise and delight your favourite people with a greeting box today!
★★★★★

"I've given four or five of these fabulous little boxes and each has brought joy to the recipient. Also really appreciate how this company goes the extra mile to ensure the pretty packages arrive on time--excellent customer service!"

Jackie K.
★★★★★

"Love, love, love these gift boxes. The personalization makes it an extra special gift and gives it that special touch. Perfect way to send a little love or tell someone you are thinking about them. Much better than flowers!!"

Karen O.
★★★★★

"I LOVED making a box for mother's day! I designed it for my mother-in-law and she thought it was the most unique gift to ever arrive at her front door! She was so surprised and still has the photos on her fridge months later."

Brittany S.
★★★★★

"I used 5am Lemon for Mother's Day instead of the traditional flowers. It went flawlessly and both Mom's supper happy with the personalization and unique gift."

Dominique S.
★★★★★

"Loving 5am Lemon to send to friends! I have used for a number of birthdays and the reaction has always been so positive!

Getting to include some personal photos of good memories and sending a treat to let them know I am thinking of them, makes me feel good and definitely sparked joy with the recipients!

Love the assortment of gifts as well! Something for everyone!

Getting ready to send my next gift box!"

Stacey B
★★★★★

"Love 5am Lemon's gift boxes!! I ordered one for a friend who received a new job, she thought it was such a thoughtful creative gift! The box, pictures, treats and card were all so perfect, it made picking out an awesome gift for a well deserved person so easy. I'm looking forward to purchasing more!"

Delaney S.
★★★★★

"This is such a great idea! Very unique and customized gift, and easy to put together. Just sent a Thank You / Sorry one to my dog groomer for the rough time my little pooch gave him. Loved that I was able to put her picture, fabulously groomed, on the box."

Karen R
★★★★★

"Great for Graduation!
We bought a 5am Lemon box to celebrate our daughter's grade 8 graduation. We stuffed it with delish chocolate and little surprises. She loved seeing the photos comparing her first day of kindergarten to her first day of grade 8. It felt very personalized and it was super cute!"

Amber H.
★★★★★

"I ordered a box for my friends birthday it was great to personalize it. She said it was one of the best gifts because it was personal. It is really great to be able to send something meaningful rather than just flowers or a gift basket. Definitely the best place to order from!"

Monika S